Our Services
From Sprinkler Repair to New Installation, Our Team Does it All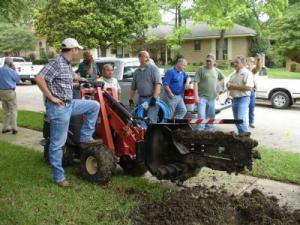 A lot of businesses have forgotten that customers have a choice when it comes to service providers. They figure that you'll just go with whoever shows up at the top of a Google search. We don't feel that way. That's why we focus on you and the needs of your system instead of trying to sell you the latest upgrades or fanciest controllers in the industry. We're not out to make a buck at your expense. We'll deliver the best service at the lowest price possible. We are confident that's the right thing to do and will pay off in return customers in the long run.
Just because we are a local company doesn't mean that we only do small, residential systems. While a majority of our customers are from the residential side, we also handle some of the largest commercial accounts in Haltom City. We have access to large trenchers and heavy pipe laying equipment as well as the technical skills to install them properly. It doesn't matter to us if you need a 40,000 sq ft system or a 400 sq ft system, we'll be there and get it done for you!
Complete Commercial and Residential Irrigation Service

As the premier Haltom City irrigation service, we deliver top-notch service for a reasonable price. And, all of our repairs come with a 100% satisfaction guarantee. You aren't rolling the dice on a fly-by-night provider when you contract with our Haltom City sprinkler repair company. You're getting the best in the area, guaranteed.
Valve location and repair
Electrical line location and repair
Leaks in the main
PVC and poly based system repair
Tune ups
Below ground irrigation
System additions
Rerouting
Controller, clock and timer adjustments and programming
Shut off valve installation and repair
Winterization
Spring start up
System optimization
Drip irrigation line installation and repair
Pop up head replacement and repair
Individual rotor service
Underground leak detection