Your Haltom City Drip Irrigation Specialists

We're Haltom City's drip irrigation installation and repair specialists. If your lawn needs the best care that technology can offer, let us know. For a free quote on our irrigation services, call 817-986-0219 today.
Why Use Drip Irrigation?
What Drip Irrigation Is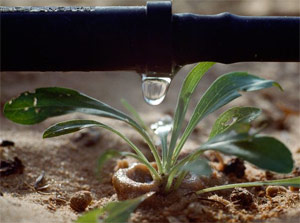 Drip irrigation systems are above-ground or underground watering systems. They send water directly to the plants at their bases or to their roots…where they need it most. These systems are ideal for gardens and many residential landscapes. Pipes or hoses will send water directly to the plants, unlike sprinkler systems, which spray water to cover a large area. With drip irrigation, water is dispensed a little bit at a time and you can control exactly how much water is released.
Why Use Drip Irrigation
Drip irrigation offers a number of benefits over hand watering and sprinklers. With a drip system, you only water small spots on the ground. This keeps weeds from sprouting up in other parts of the landscape. And that means you don't have to spend your time watering these other plants.
Also, you'll naturally be conserving water when you use a drip system. Hand watering typically uses much more water than necessary, which can drive up water bills.
Another problem with hand watering is the time wasted. If you're watering by hand today, count how much time per day, per week, and per month you spend watering. Then think how much you'd be saving with a drip system… To find out more about the benefits of drip irrigation, call 817-986-0219 today.
What We Offer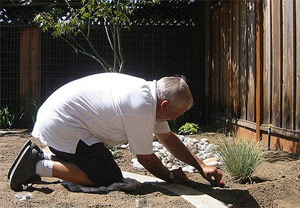 Our team offers the best drip irrigation services in Haltom City. We perform all types of services, from basic repairs to complex design and installation. Here are the main services we provide.
Drip Irrigation Installation
We install everything from sub-surface irrigation systems to sprinkler systems. Our team has experience with every type of residential project – such as backyard garden systems and landscapes – to major commercial projects.
On-Site Inspections and Free Quotes
When you get in touch with our team, we'll set up an appointment with a technician. Our trained specialist will inspect your landscape and your system, then give you a professional appraisal, solution, and cost estimate.
Quick Fixes, Big Fixes, and Maintenance Plans
We only use top quality brand names, such as Rain Bird, Raindrip, Nelson, and Orbit. But accidents, foot traffic, and the forces of nature can cause problems. If you're having problems with your existing system, we're here to help. Our technicians will troubleshoot your system, identify problems, and provide solutions on the spot. We'll help with everything from tiny clogs and part replacements to major flooding and extreme emergencies.
Redesigns and Overhauls
Sometimes customers want to expand their coverage area, redesign their landscape, or overhaul a system that doesn't work properly. Our team has the experience and skill necessary to handle these problems. We'll give you the drip system – and the lawn – you want for your property. To speak with an irrigation specialist, call 817-986-0219 today.